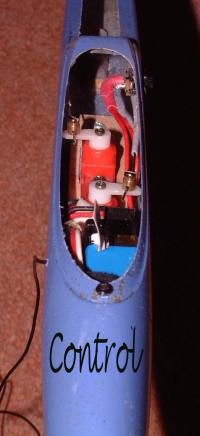 Control –
I used a couple of those micro red union jobbies pre-fitted in a light ply tray, epoxied into the fus. Adjustment is via a threaded stand off that has a cross hole for the piano wire that in turn is clamped by a tiny grub screw giving easy and positive positioning.
A Jeti micro receiver was an easy fit in the fus to complete the control chain. The battery used was also obtained from W.L.M. and was a 270mA four cell pack in diamond configuration and was a snug fit up the nose. Fortunately, it was also a perfect fit in the fus. With this set up, there was no need for any extra weight to give the correct C of G.

Test Flight –
Yes, I still got the tingle. Phil obliged, as usual, and sent it up a mini bungee straight and true like Robin Hood's shaft (home made tow hook about 30° in front of CG) on Minchinhampton common in a fair breeze. Very little trimming was needed, but Phil would certainly look better for it. It proved to be very stable and responsive, but we were out of time. Second flight at Rodborough on a bungee with no air at all showed what a superb flat glide it had. The turn was very flat and it was a dream to handle (exponential would be useful if heavy handed). I am now looking forward to a flight with thermal activity.